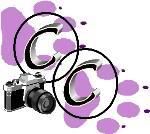 Hello guys! How's your day? For me, I'm not so busy today, that's why I post my Camera Critters so early. Here's my entry for this week, a turtle with a colorful fishes.
I took these pictures at Wings of Paradise Butterfly Conservatory located at Cambridge City, Ontario Canada. Aside from butterflies and birds, they have beautiful turtles and wonderful fishes.
There are six turtles and hundreds of colorful fishes in here.