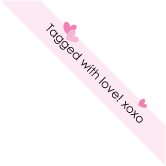 Sorry to my beautiful friends
Twinks
and
Lynn
who gave this Valentine's meme. Thank you girls sorry for the late post I'm so busy strolling you know laagan . Even though it's late but still I love to post. According to them better late than never. Love to spread this to my ever friend
Mymy
,
Janet
and to all my friends in my list.

***start copy***
Rules:
1) Once you're tagged, install the corner banner at your blog as a third party html code. (The corner banner need to stay at your blog for at least 2 weeks).

3) Add your blog/s with link/s to the Valentine's Lovers list and leave a comment at this post
HERE
.
3) Tag all your special friends.
4) Please remember to update your list regularly so that you would not miss out anyone in your Valentine's Lovers list.

p/s: The wordings on this banner with automatically changed to 'Tagged with Love! xoxo' on Feb 15.
Get the code of the corner banner and the instruction on how to install it in blogger --->
HERE
Valentine's Lovers
***end copy*